Study in UK after 12th
Completing your education in the United Kingdom after 12th can prove to be immensely beneficial for your career. First of all, the international exposure that you will get by studying in one of its world-class institutes will help you stand out from the crowd. No matter what career you choose, knowing the ideas of others and participating in discussions with them at international level will help you improve your intellectual, social as well as leadership skills. You will have firsthand experience of their culture and traditions, and make new friends and life long memories.
Moreover, employers around the world recognize students with UK qualifications. Your UK degree or diploma can lead you to a lucrative job prospect. Here is the list of the subject fields in which most of the students take admission.
Learn more about Study in UK
Best Courses to study in the UK after 12th
Business & administrative studies
Subjects allied to medicine
Biological sciences
Social studies
Creative arts & design
Engineering & technology
Computer science
Languages
Physical sciences
Law
Historical & philosophical studies
Education
Medicine & dentistry
Mass communications & documentation
Mathematical sciences
Architecture, building & planning
Agriculture & related subjects
·Veterinary science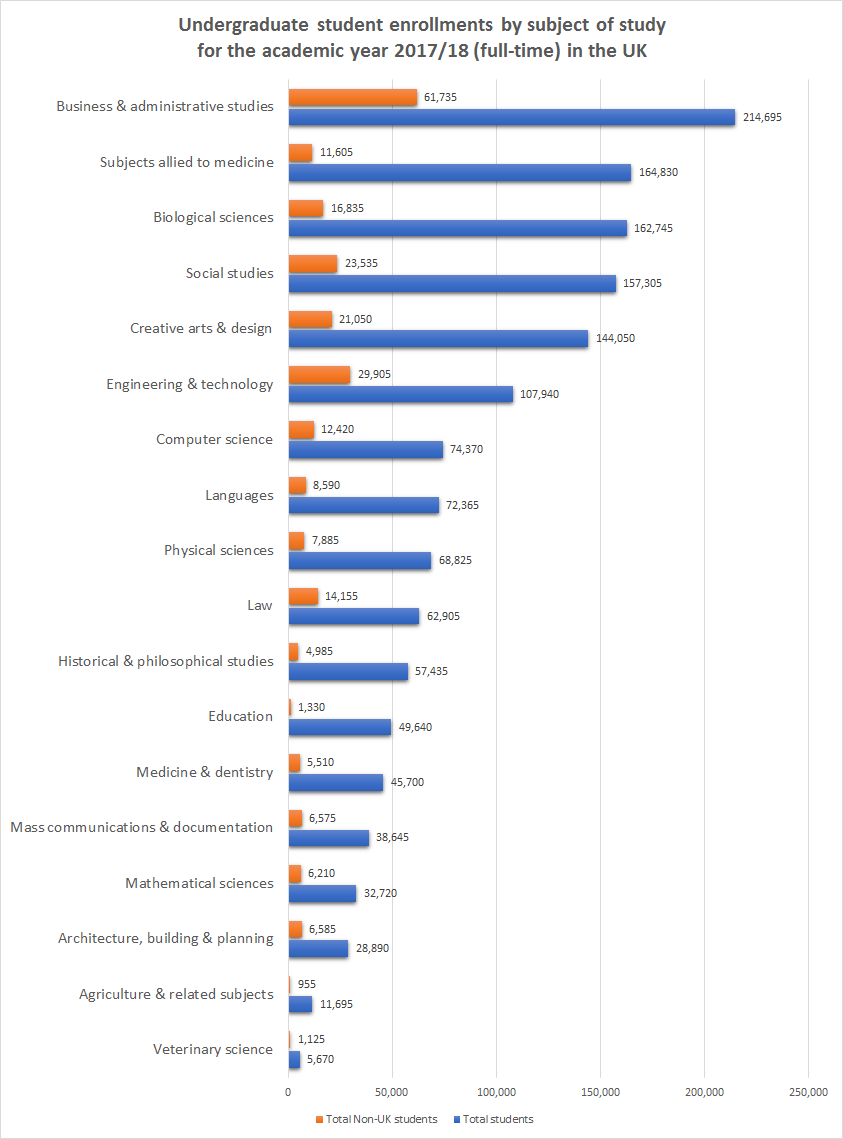 The list is derived from the latest data shared by the HESA, which shows what subjects students picked for the academic year that ended in 2018. The number one subject that 214,695 students chose was Business and administrative studies, out of which 61,735 were non-UK students. The subjects which were at the second spot were allied to medicine. However, interestingly, this was not the second most preferred subject of total non-UK students, who preferred Engineering and technology. There other preferred topics included Social studies, Creative arts & design, Biological Sciences, Law, Computer science, and Subjects allied to medicine.
Choosing a career path requires serious thought, and one should also give importance to the latest trends. For instance, as we depend increasingly on technology, a career in Robotics, AI, or Automation will be beneficial. A career in Cybersecurity, media, and creative fields is looking promising too. Likewise, increasing health issues means that a career in Healthcare will be the right choice. Here is a shortlist of suggested subjects for students of commerce, arts, medical and non-medical streams.
UK Study Visa Requirements For Indian Students
Study in the UK after 12th Commerce Stream
Management
Business or International Business
Economics
Law
Entrepreneurship
Accountancy
Study in the UK after 12th Arts Stream
Music
Anthropology and Archaeology
Mass Communication
Sociology
Hospitality and Tourism
English Literature
Psychology
Study in the UK after 12th Medical Stream
Medicine
Animal Sciences
Biotechnology
Biology
Horticulture
Earth Sciences
Energy Management
Molecular Sciences
Study in the UK after 12th non-Medical Stream
Mathematics
Chemistry
Mechanical Engineering
Civil Engineering
Industrial Engineering
Computer Science
Electrical Engineering
Automotive Engineering
Top UK Universities with high placement
There are many study programs related to these subjects. To know about them. Please consult with our UK study counsellors. In addition to this, they will also help you in fulfilling the UK student visa requirements. For free counseling contact us, or visit any of our branche.