Rise in Canada's Post-Graduation Work Permits
One of the most significant advantages of completing higher education in Canada is that the Canadian government allows international students to work full-time after they finish their study programs. The main reason behind this is that Canada has been facing a shortage of skilled workers for several years. As per the latest data, In the second quarter of 2019, Job vacancies in Canada surged to 581,600, which is 6.4 more as compared to the same period of last year. In addition to this, Canada has been facing ageing of its people which has played a role of catalyst in soaring the employment opportunities for foreigners. To fill the gap, the Canadian government has been offering work and PR opportunities to foreigners, including international students. More and more students are getting PGWP nowadays, and the latest data by Statistic Canada is also confirming this trend which is given below. It is expected that this trend will continue in the coming years. The labour shortage is boon to those students who are seeking to take advantage of Canadian Post-Graduation Work Permit program to build their careers.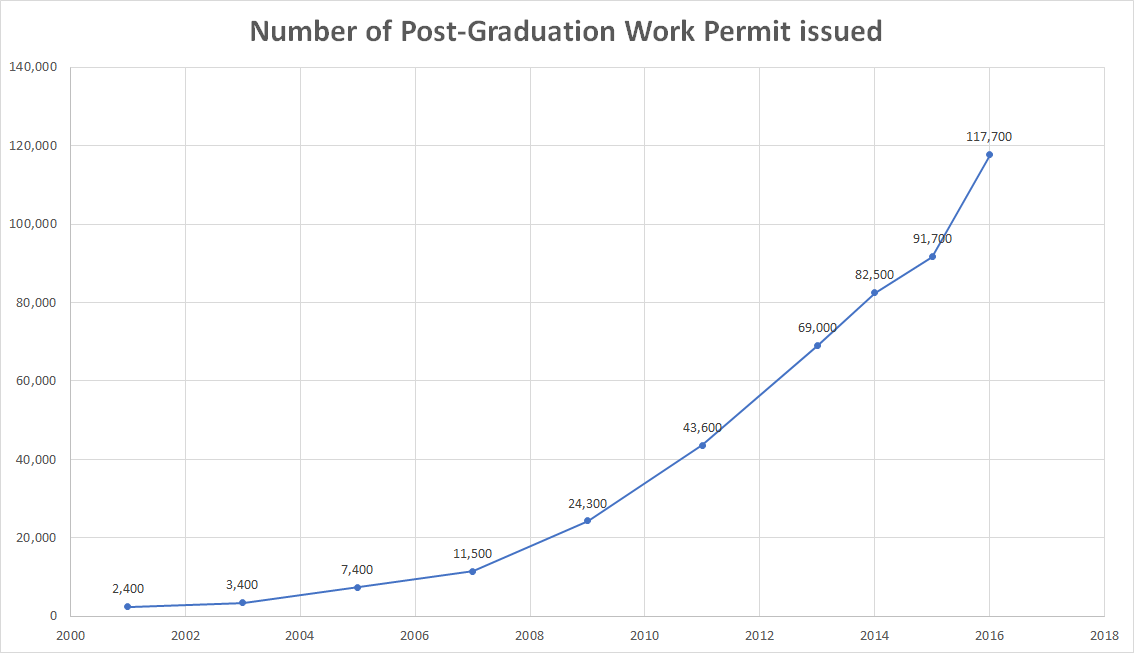 The data in the given figure shows a steep increase in the number of Post-Graduation work permits issued to international students since the year 2000. In addition to this, as per Cicnews, the number of PGWP issued in 2018 is over 143,000, which is 25300 more than the year 2016. As stated above this trend is likely to continue because Canada is growing old as a country. A significant number of job vacancies are remaining unfilled every year. As a matter of fact, in the first quarter of 2019, there were 506,000 job openings which are 10% more over the same quarter in 2018.
The Post-Graduation Work Permit Program is an effort by the Canadian government to attract international students, and it allows eligible graduates to work in Canada after completing their study programs. The time duration they get generally depends on the length of their course. At maximum, they can work up to 3 years.
PGWP (Post-Graduation Work Permits) Eligibility Requirements
complete academic, vocational or professional program which should not be less than 8 months from a Designated Learning Institution (DLI).
maintain full-time student status in Canada during their program
receive a transcript and letter which confirms the completion of their study program from their institutions.
Studying in Canada brings a lot of opportunities to overseas students. They study in world-class education and gain valuable knowledge and skills which makes the ready for a bright career. Not only can they work after completing their graduation or post-graduation but also during their studies. if their study programs allow, they can work up to 20 hours a week and earn money and experience.
You can also take advantage of opportunities by studying in Canada. for information on the best Canadian universities or colleges, please contact our Canada visa experts. They will also assist you in receiving your Canada study visa in the shortest time possible.