Record increase in International students in the UK despite pandemic
Despite the coronavirus pandemic, UK universities have managed to attract more students than the previous year. As per the new analysis published by Universities and Colleges Admissions Service (UCAS), the number of non-EU international students starting their studies this autumn has increased by 9% to 44,300.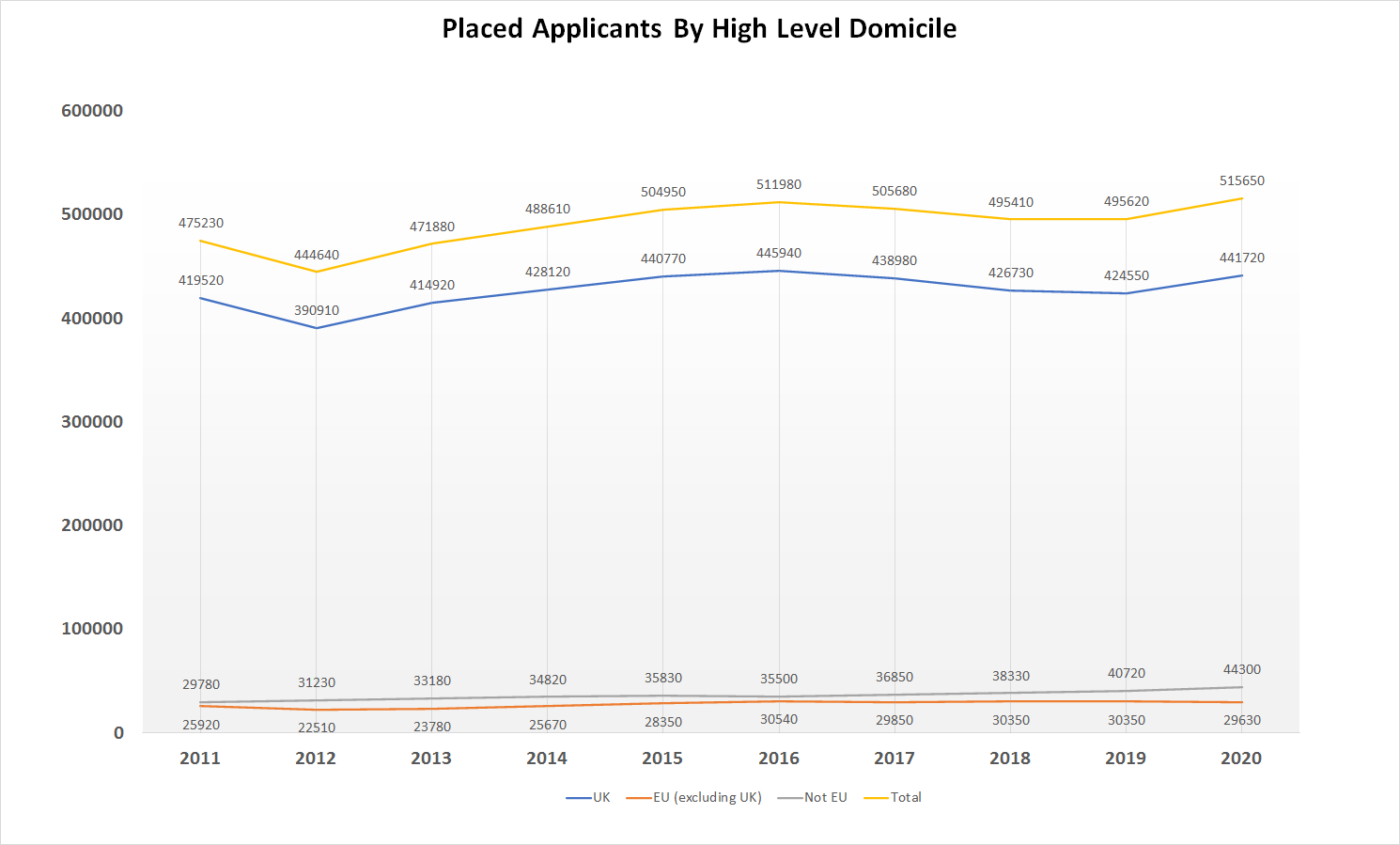 Placed Applicants by High-Level Domicile

Year

2011

2012

2013

2014

2015

2016

2017

2018

2019

2020

UK

419520

390910

414920

428120

440770

445940

438980

426730

424550

441720

EU (excluding UK)

25920

22510

23780

25670

28350

30540

29850

30350

30350

29630

Not EU

29780

31230

33180

34820

35830

35500

36850

38330

40720

44300

Total

475230

444640

471880

488610

504950

511980

505680

495410

495620

515650
The overall demand for higher education in the UK has set a new record, reaching 515650 in 2020, which is almost 4% higher than in 2019. The number of students who deferred has also increased, but surprisingly, not to a significant extent (5.7% in 2020, 5.4% in 2019). Noticeably, the number of placed applicants from the EU has decreased by 2% to 29630, which is most likely due to Brexit.
It is a remarkable turnaround, considering the fact that most of the UK universities feared witnessing low international enrollments this year due to the current coronavirus pandemic.
Clare Marchant, UCAS Chief Executive, said: 'As students are starting their new courses across the country, these numbers confirm the enduring appeal and welcome of our outstanding universities and colleges.
The UK has some of the best universities and colleges in the world. 101 UK universities are among the top institutions selected by the Times Higher Education World University Rankings 2021.
The UCAS Chief Executive further recognized the hard work done by the UK institutions and said, "They, along with schools, UCAS, and organizations across the entire education sector, have worked tirelessly in recent months to provide reassurance and flexibility to applicants, and ensure access to the best opportunities possible."
"I admire students for their adaptability and resilience in recent months, which will put them in a strong position to thrive on their courses and benefit from the world-class education they'll receive through a variety of innovative methods this year."
Stricter Coronavirus travel restrictions by the US, Australia, and New Zealand may also have helped the UK attract more students.
It is worth mentioning here that the UK will introduce significant reforms to its international student immigration route from October 5. The new path is point-based, in which the applicants will have to achieve 70 points for a study visa. The point distribution of the new study visa is as follows; Fifty points for completing academic requirements, including acceptance (CAS) latter, 10 points for completing financial requirements, and 10 points for meeting English language conditions.
Obtaining a CAS letter and UK study visa require carefully fulfilling all the conditions. Therefore, It is advised that students consult with the Pyramid's UK Visa Experts to avoid refusal. Students can call at 92563-92563 to book an appointment or visit any of the Pyramid's branches.