How studying in Quebec can open PR opportunities
If you are planning to study and settle in Canada, then Quebec can be the right choice for you as the province is likely to give more PR opportunities to immigrants, including International students. As per the recent study shared by the Conference Board of Canada, the actual requirement of immigrants in Quebec is almost double from the current targets. Quebec has been consistently welcoming around 51,000 newcomers since 2014, and its share in the total immigrants in Canada has remained around 18%. Quebec needs more people for a strong economy. If it continued to sustain the current immigration levels till 2041, then its economy would grow only by 1.4% yearly compared to the national average of 1.9%. And as per the report, Quebec's economic growth would go beyond 1.7% if the province invites more than 80000 immigrants annually.
Job Vacancies in Quebec
As per the Statistics Canada's Job Vacancy and Wage Survey, in the first quarter of 2019, the number of vacant positions in Quebec companies stood at 114,215, which is 23% more than the number of vacancies for the same quarter in 2018. The highest in-demand sectors are Accommodation and Food Services, Scientific and Technical Services, Health Care Services, Retail Trade, Manufacturing, and Transportation.
Immigrants in Quebec
Most of the immigrants in Quebec fall under two categories, which are "Economic Immigrants' and "Sponsored by the family." However, there are other categories too.
| | 2014 | 2015 | 2016 | 2017 | 2018 |
| --- | --- | --- | --- | --- | --- |
| Economic immigrants | 33441 | 29900 | 31605 | 30265 | 29190 |
| Sponsored by the family | 11318 | 10495 | 11125 | 12135 | 12285 |
| Refugees resettled and protected persons | 4862 | 7615 | 9435 | 9155 | 8830 |
| Other categories of immigration | 627 | 970 | 1085 | 845 | 810 |
| Total Quebec | 50248 | 48975 | 53245 | 52400 | 51120 |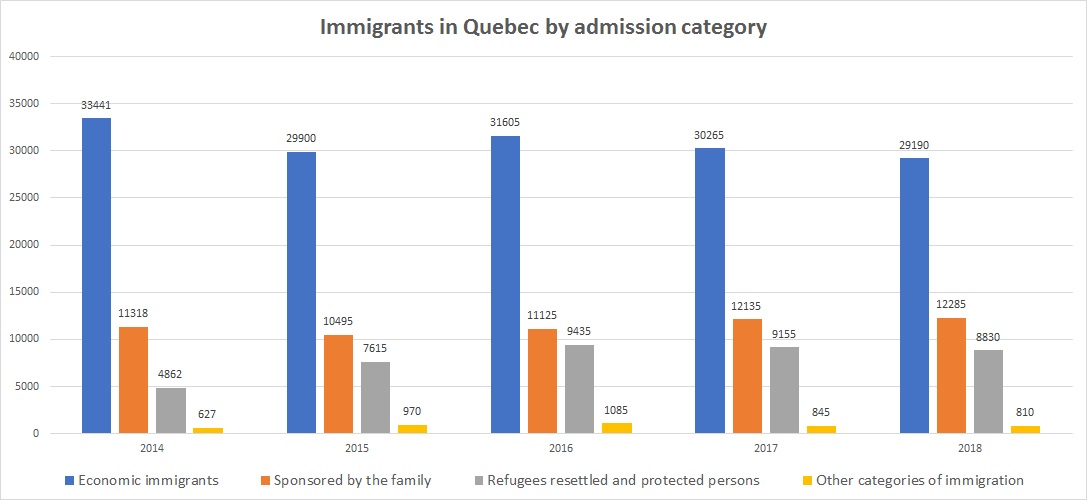 Why Quebec needs so many Immigrants
One of the most noteworthy reasons behind so many invitations is that the province is adversely hit by the aging of its population. Although aging phenomena are prevailing all over Canada. Despite many favorable policies, the birth rate has remained low. According to CBDC, by 2028, if there is no change in the natural population rate of Quebec, the difference between the number of births and deaths will become negative. The study further predicts 100% Quebec's population growth through immigrants. Moreover, aging has also resulted in unfilled vacancies and labor shortages, which has created a beneficial situation for immigrants, including students who want to settle in Canada.
Graduate programs relevant in Quebec
After completing their studies in Quebec, International students can apply under the Quebec experience program (PEQ). Quebec study program admissible under PEQ are
Bachelor's Degree
Master's Degree
Doctorate (Ph.D.)
Diploma of College Studies - Technical
Vocational Diploma (900 hours of study)
Vocational Specialization (900 hours of study)
College Studies (900 hours of study)
Do you want to study in Quebec, Canada? We can help you find the best university or college, keeping in mind your interest and financial aspects. Pyramid has been assisting overseas study aspirants to get their study visas since 2004 and has helped more than 30,000 students. Our experienced study-abroad consultants can help you get your Canada study visa without any hassle. Please visit any of our branches or contact us on 92563-92563.