Germany projects positive outlook for winter 2021 intake
As per the recent survey conducted by the German Academic Exchange Service - DAAD, the total number of international students studying in Germany in the winter semester 2020/21 increased to 330,000 students, which is 3% more than winter semester 2019/20 in which around 319,000 students studied.
"The longer-term attractiveness of Germany as a place of study seems to have increased in the context of the Corona crisis; there are now significantly more international students than before want to complete their entire studies at German universities." Dr. Jan Kercher, the DAAD expert for external studies and statistics, said in an interview.
The survey was based on enrollment data from 161 out of 270 member universities of the University Rectors' Conference (HRK), a significant number.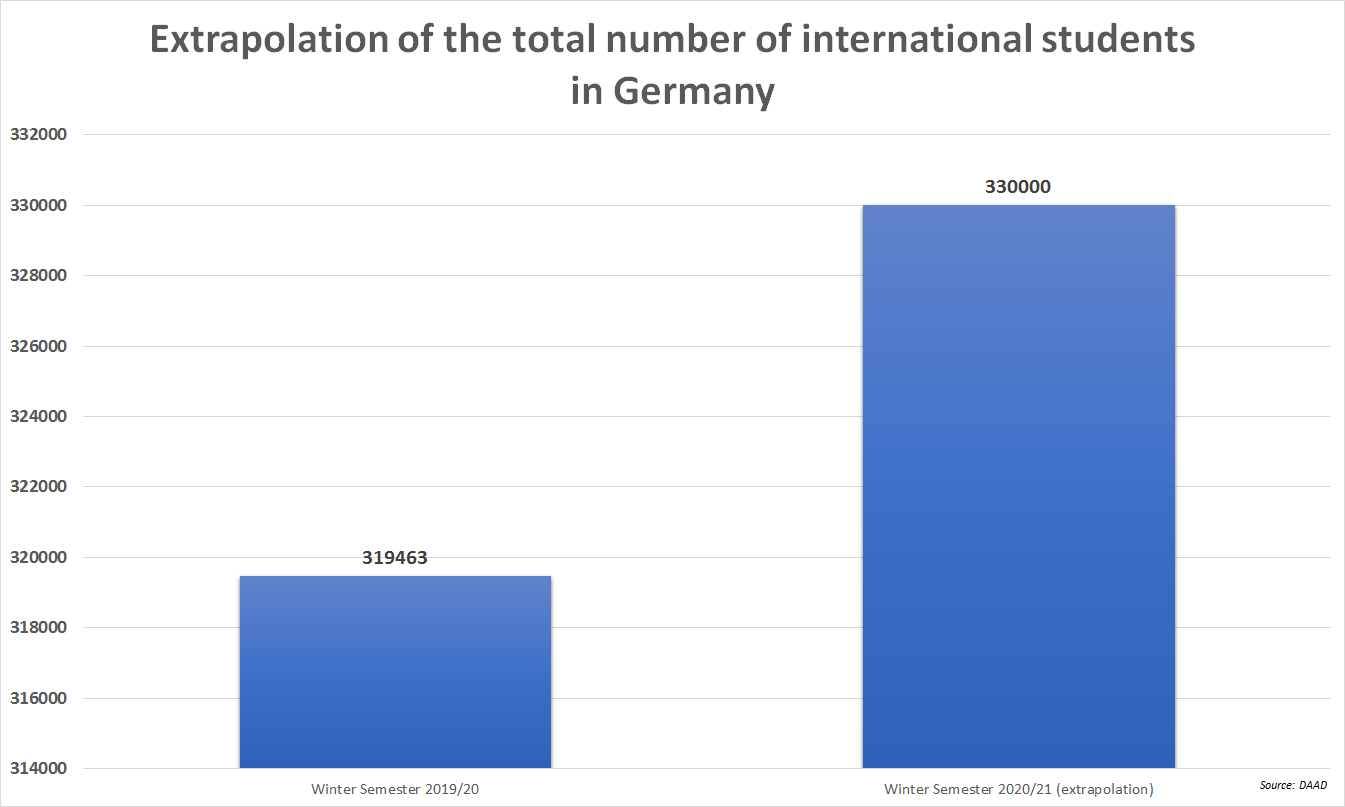 17% increase in International degree-seeking students
The survey data revealed that although there was a significant decrease in newly enrolled guest and exchange students, which was around 54%, the number of degree-seeking students rose by 17%. Despite the coronavirus pandemic, German educational institutions witnessed just a 1% decrease in international first-semester students. The total number increased by 3%.
Many international students are already in Germany
Surprisingly, 40% of higher education institutions estimated that approximately 90 to 100% of their international students are in Germany at university locations, even though they are taking classes online. Only 15% of the institutions surveyed estimated that this applies to less than half of the first-year international students.
"At least 50 percent of international students have already arrived at the university location to an extrapolated 85 percent of the universities that are able to make a statement or an assessment in this regard. At almost 40 percent of universities, this applies even to 90 to 100 percent of newly enrolled international students. The entry into Germany seems to have been possible for most of the new students, despite the travel restrictions and the partially delayed issuing of visas.", Dr. Jan Kercher said while answering a question on inbound international students.
The survey also revealed that around 77% of German institutions are likely to continue practising the Mixed model of classroom and distance learning. Only 23% of them are extrapolated to practice teaching through Digital distance learning only.
As per the Federal Statistical Office of Germany, last year for Winter Semester 2019-20, the total number of Indian students in Germany increased by 20.85% to 25,149, with a five times higher growth rate than the global average. India is the second-largest source of international students in Germany. Engineering is the number one field of study, followed by social studies, natural science, and mathematics, for which Indians choose Germany as their study destination.
Germany's attractiveness as a study destination has increased over the years. If you also want to study in Germany, it is highly recommended that you consult with our experts to meet the study visa requirements. With over 16 years of experience and 30,000 study visa success stories, Pyramid is one of India's leading overseas education consultancies. You can reach us by calling at 92563-92563 or visiting any of our nearest branches.