Common Reasons College Applications Get Rejected
Some of the common reasons leading to a student's application being rejected are as follows:
1. Academic Criteria Not Met
The rejection of college applications due to this reason often stems from factors such as a low GPA and inadequate standardized test scores, e.g., IELTS, PTE, TOEFL, SAT, and ACT. Colleges set minimum academic standards, and falling below these benchmarks can lead to rejection.
2. Incomplete Application
Admissions officers seek well-organized, accurate applications to assess a candidate's suitability. Incomplete or error-ridden applications hinder the evaluation process, potentially leading to a negative perception of the applicant's commitment and ability to follow instructions.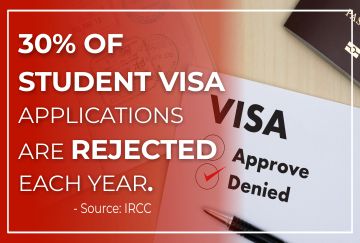 3. High Volume of Applications and Limited Seats
Abroad student applications often face rejection due to the overwhelming rush of applications and limited available seats. Colleges and universities receive a high volume of applications, making it challenging to accommodate everyone. The proverb "The early bird gets the worm" holds true in this scenario, as early applicants have a better chance of securing a spot in the competitive selection process.
4. Inadequacy in Background Check
Inadequate background can be a significant reason for college application rejection, especially when students struggle to explain gaps in their education or have a history of any kind of prohibited activity. Colleges prioritize a safe and supportive learning environment, leading them to carefully consider the backgrounds of applicants. Institutes always aim to admit students with a solid and secure background.
5. Selection of Incorrect Programs/Courses
Students often face rejection in their college applications because they lack proper information when selecting their courses. Without knowing which programs, they qualify for, students may end up choosing the wrong courses, resulting in application rejections.
6. Not Seeking Expert Guidance from a Skilled Study Visa Consultant
When applying for a study visa, many students make the mistake of not seeking expert guidance from skilled study visa consultants. This oversight can lead to common reasons for college application rejections. Without proper consultation, applicants may misunderstand visa requirements, fail to provide essential documentation or overlook crucial details in their applications.
Tips to get succes in your application:
1. Meeting Academic Criteria
Maintaining a required GPA and excelling in standardized tests are essential. To increase acceptance chances, students should consistently prioritize academic performance. Consider colleges employing a holistic approach, valuing various aspects like extracurriculars and personal achievements alongside grades.
2. Completing Application Effectively
Initiate the application process well in advance to avoid errors and omissions. Adherence to instructions showcases organizational skills and commitment, positively influencing the admission committee's perception of the applicant's dedication and attention to detail.
3. Accurate Course Selection
Accurate course selection prevents rejection due to misalignment between the applicant's qualifications and the chosen programs, enhancing the overall coherence and relevance of the application. Seek guidance from knowledgeable study abroad consultants such as Pyramid eServices.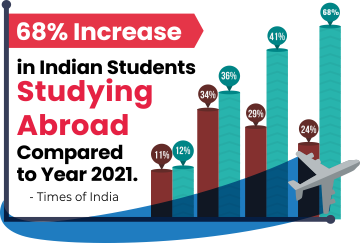 4. Early Application Submission
Early application submission offers a competitive advantage in the face of a high volume of applicants and limited seats. It demonstrates genuine interest and commitment to the institution.
5. Expert Guidance from an Expert Education Consultant
Engaging skilled study visa consultants is crucial. Their expertise helps navigate complex visa requirements, reducing the risk of oversight or misunderstanding. Attend Application Days, Education Fairs and Seminars conducted by Pyramid eServices to gain insights into proper knowledge regarding applying for a student visa with the help of our expert visa counsellors and delegates from various universities and colleges.
Expert guidance from skilled study visa consultants, like Pyramid eServices, enhances the chances of acceptance. With a proven track record of 40,000+ success stories over 19+ years, Pyramid eServices emerges as a faithful partner in this abroad educational journey, ensuring a smooth and well-informed application process. To embark on your educational aspirations, reach out to us now at 92563-92563.
Check our other Blogs