Canadian study permits for Indian students set to touch pre-pandemic levels
It is no secret how adversely the coronavirus pandemic has affected everyone's life, but international students were the most affected. Dreams were shattered by travel restrictions. Many students wishing to study in Canada had to either start their studies online or postpone their study programs. Still, amidst all this, the measures taken by the Canadian government for international students kept hopes. And now, the study permit data recently published by the Canadian government has made it clear that things are coming back on track.
According to the data, there was an increase of about 30% in study permit holders till August 2021, which is 30% higher than the last year for the same period. The surge also correlates with the IRCC statement that it would process all completed applications by 6 August 2021.
If you only talk about Indian students, then a similar trend can be seen. The number of Canadian Study Permit holders from India increased by about 19% till August 2021 as compared to the previous year for the same period. It is worth noting that the figures for September and the fourth quarter are not available yet. However, given the current processing and number of deferred students and new applications, it can be safely assumed that the final numbers will be very close to the pre-pandemic levels by the end of the year.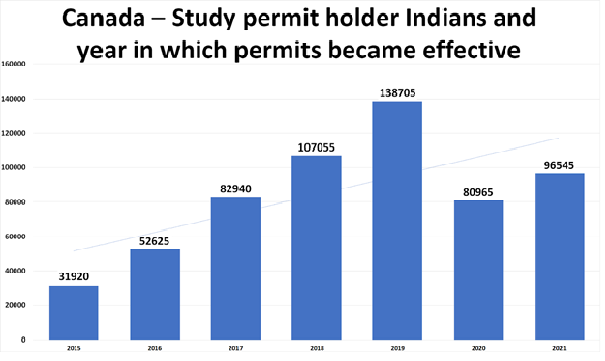 The number of Canadian study permits for Indian international students gradually increased from 31920 in 2015 to 138705 in 2019. However, due to the pandemic, there was a sharp drop in 2020, followed by a recovery in 2021.
The main reason for the recovery is the rapid decline in coronavirus cases in India, because of which recently the Canadian government lifted travel restrictions. However, Indians are still required to have a Canadian government-approved vaccination to travel to Canada, which includes Pfizer-BioNTech (Comirnaty, tozinameran, BNT162b2), Moderna (Spikevax, mRNA-1273), AstraZeneca/COVISHIELD (ChAdOx1-S, Vaxzevria, AZD1222), Janssen/Johnson & Johnson (Ad26.COV2.S). As of now, Covishield is the only Canadian government-approved vaccination that is also available in India. The other major vaccine available in India is Covaxin, which, although approved by the WHO, is still awaiting country-specific approval from Canada.
The uptrend is expected to continue as the number of people vaccinated against the coronavirus in India continues to grow rapidly, making a third wave quite unlikely. If conditions remain favorable, the day is not far when Canada's number of Study Permit holders will exceed pre-pandemic levels.
Thousands of students are applying to study in Canada in upcoming intakes. If you, too, wish to study in Canada, it is highly recommended that you take guidance from Pyramid's Canada study visa experts. Pyramid is the leading study visa consultant in India that has been providing study visa services for more than 17 years now. Over the years, more than 35000 students have fulfilled their study abroad dream with the guidance of Pyramid experts. To contact Pyramid's experts, you can visit any of the nearest branches or call at 92563-92563