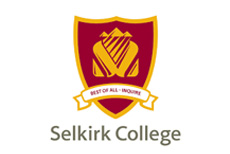 Post-Graduate Diploma in Gerontological Nursing
Selkirk College - Castlegar
Castlegar , British Columbia
Duration: 4 Semester
Degree Name: Post-Graduate Diploma in Gerontological Nursing
Discipline Medicine and Health Sciences
Program Level: Post Graduate Certificate
Special Admission Requirements
Min IELTS overall: 6.5 (Min Reading: 6.5 , Min Writing: 6 , Min Listening: 6 , Min Speaking: 6 )
Overview
f you are an internationally educated nurse and interested in geriatrics, this Post Graduate Diploma will prepare you to effectively work with older adults, promoting wellness and enabling health. The geriatric population is the fastest growing health cohort around the world. Currently 70 per cent of all patients in Canada are elderly. Registered nurses must have specialized knowledge and training to effectively educate, assess and care for these older people. This Post Graduate Diploma in Gerontological Nursing will give you the tools and skills to meet the complex physical, social, environmental, cognitive and spiritual needs of the elderly. You will be given the chance to have intercultural exchange between graduate nurses from other countries and on-campus BSN students. This will promote rich dialogue about nursing approaches, philosophies and global health needs. Learn more about the international experience at Selkirk College. Seminars and occasional class interaction will provide added opportunity for an exchange of ideas and nursing expertise.
Financials
| Description | Sub Total |
| --- | --- |
| Avg Application Fee | $100 |
| Avg Cost of Tuition/Year | $14280 |
| Avg Yearly Cost of Living | $12000 |
| Estimated Other school expenses and fees | $0 |
| Estimated Total/Year | $26380.00 |
Study and Work in Canada
Full-time undergraduate and post-graduate international students can work anywhere on or off campus without a work permit. The rules around the number of hours a student will be allowed to work may vary based on the country the student chooses to study in. International students are typically able to work up to 20 hours a week.