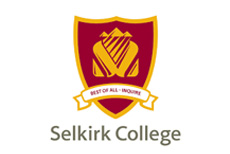 Associate of Arts - General
Selkirk College - Castlegar
Castlegar , British Columbia
Duration: 4 Semester
Degree Name: Associate of Arts - General
Discipline Arts and Humanities
Program Level: Associate Degree
Special Admission Requirements
Grade 12 / High School with English (min 60 %)
Min IELTS overall: 6 (Min Reading: 6 , Min Writing: 6 , Min Listening: 6 , Min Speaking: 6 )
Overview
No matter what career path you choose in life, it always gives you a leading edge to have a solid education on your resume. With today's job market becoming ever more competitive, employers are looking for viable candidates who show dedication and determination, especially to their academic background. Getting started on your associate or bachelor's degree today, sets you up for future career—and life—success. If you are not quite sure what you want to major in yet, but know you want to get your bachelor's degree eventually, the associate of arts general degree is right for you. It gives you a well-rounded blend of arts courses designed to let you see some of the options you will have later, once you decide on a specialty to focus on.
Financials
| Description | Sub Total |
| --- | --- |
| Avg Application Fee | $100 |
| Avg Cost of Tuition/Year | $11890 |
| Avg Yearly Cost of Living | $12000 |
| Estimated Other school expenses and fees | $0 |
| Estimated Total/Year | $23990.00 |
Study and Work in Canada
Full-time undergraduate and post-graduate international students can work anywhere on or off campus without a work permit. The rules around the number of hours a student will be allowed to work may vary based on the country the student chooses to study in. International students are typically able to work up to 20 hours a week.