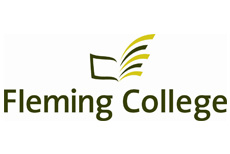 Graphic Design - Visual Communication
Fleming College - Sutherland
Peterborough , Ontario
Duration: 6 Semester
Degree Name: Graphic Design - Visual Communication
Discipline Social and Behavioral Sciences
Program Level: Advanced Diploma
Special Admission Requirements
Grade 12 / High School with English (min 60 %)
Min IELTS overall: 6 (Min Reading: 6 , Min Writing: 6 , Min Listening: 6 , Min Speaking: 6 )
Overview
Delivered at our campus in Peterborough, this is one of the few two-year Graphic Design advanced diploma programs offered in Ontario. In this intensive, compressed program, three years of study is completed over a two- year period. Graduates are ready to start their graphic design careers in just 24 months. Students in Fleming's accelerated graphic design program learn and work in a unique, contemporary design studio space; in this "classroom as design lab and studio," they discover what it takes to become a professional designer, and how to thrive in this fast-paced industry. Students gain the skills and understanding required to communicate ideas in digital and printed media through extensive and varied applied learning experiences. At the end of six continuous semesters, they are fully-prepared to hit the ground running, ready to launch their design careers in any industry that requires creative problem solving through visual communication. In this program you will: Learn in a laptop-based environment which provides maximum flexibility to work offsite as well as in class. Experience the design studio model that emphasizes collaboration, communication and experimentation – skills that are highly valued by employers. Develop and build your art, design and technical skills in modular small projects, working towards comprehensive collaborative projects to further test your abilities. Live the life of a designer, working independently and with your team, on an ambitious, large- scale project that requires branding, diverse multi-media graphic materials. This will include projects across a full range of media and platforms including print publications, advertising, web, mobile, social media, signage and environmental graphics. Gain additional, hands–on experience with an extensive work placement in a design studio, agency, or in–house design department. Understand how art fundamentals and principles inform successful design. Learn from our expert faculty as well as designers who are shaping today's industry. Graduate with a substantial portfolio, and the ability to prepare and deliver effective presentations.
Financials
| Description | Sub Total |
| --- | --- |
| Avg Application Fee | $100 |
| Avg Cost of Tuition/Year | $16796.4 |
| Avg Yearly Cost of Living | $12000 |
| Estimated Other school expenses and fees | $0 |
| Estimated Total/Year | $28896.40 |
Study and Work in Canada
Full-time undergraduate and post-graduate international students can work anywhere on or off campus without a work permit. The rules around the number of hours a student will be allowed to work may vary based on the country the student chooses to study in. International students are typically able to work up to 20 hours a week.